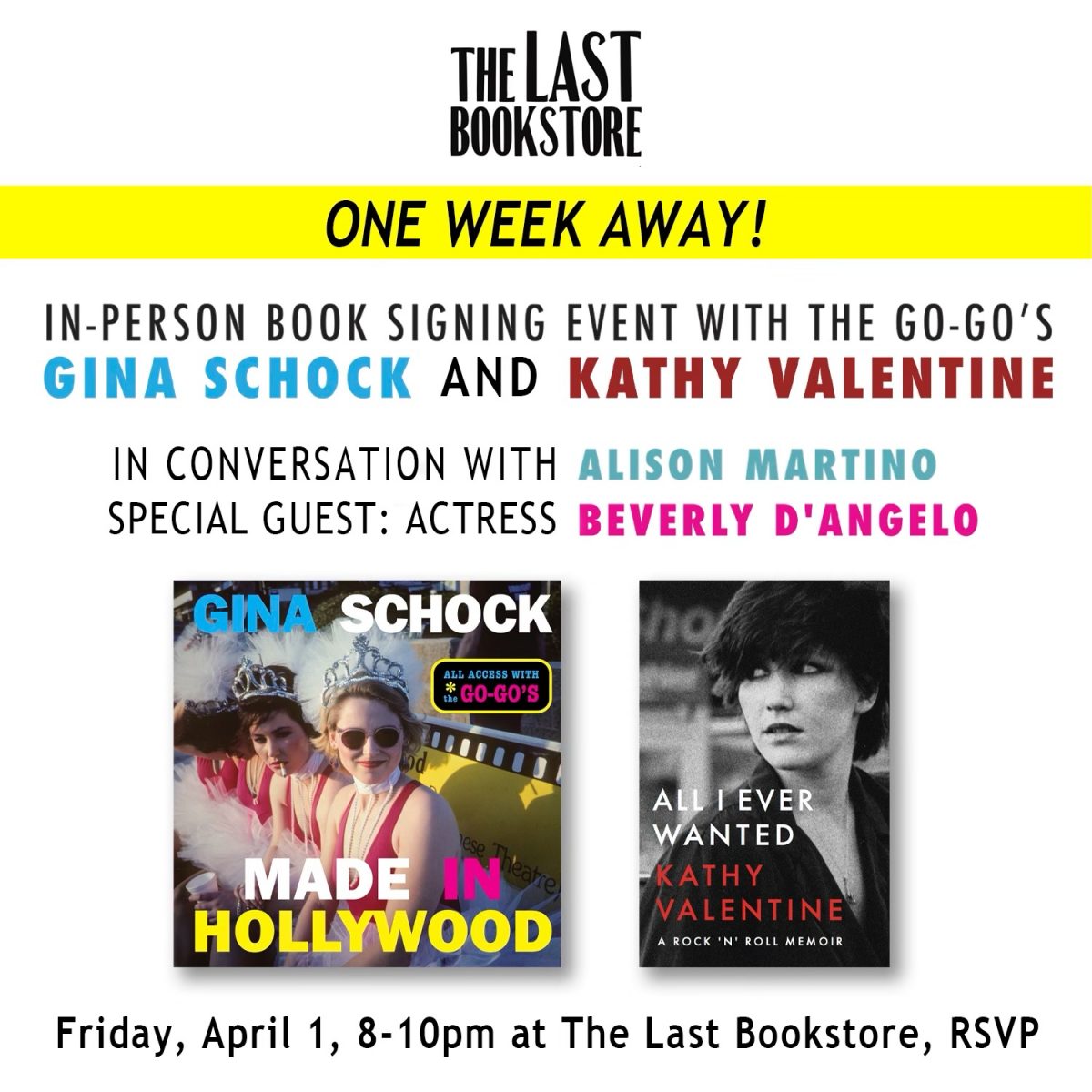 In-Person Book Signing Event at The Last Bookstore with the Go-Go's Gina Schock and Kathy Valentine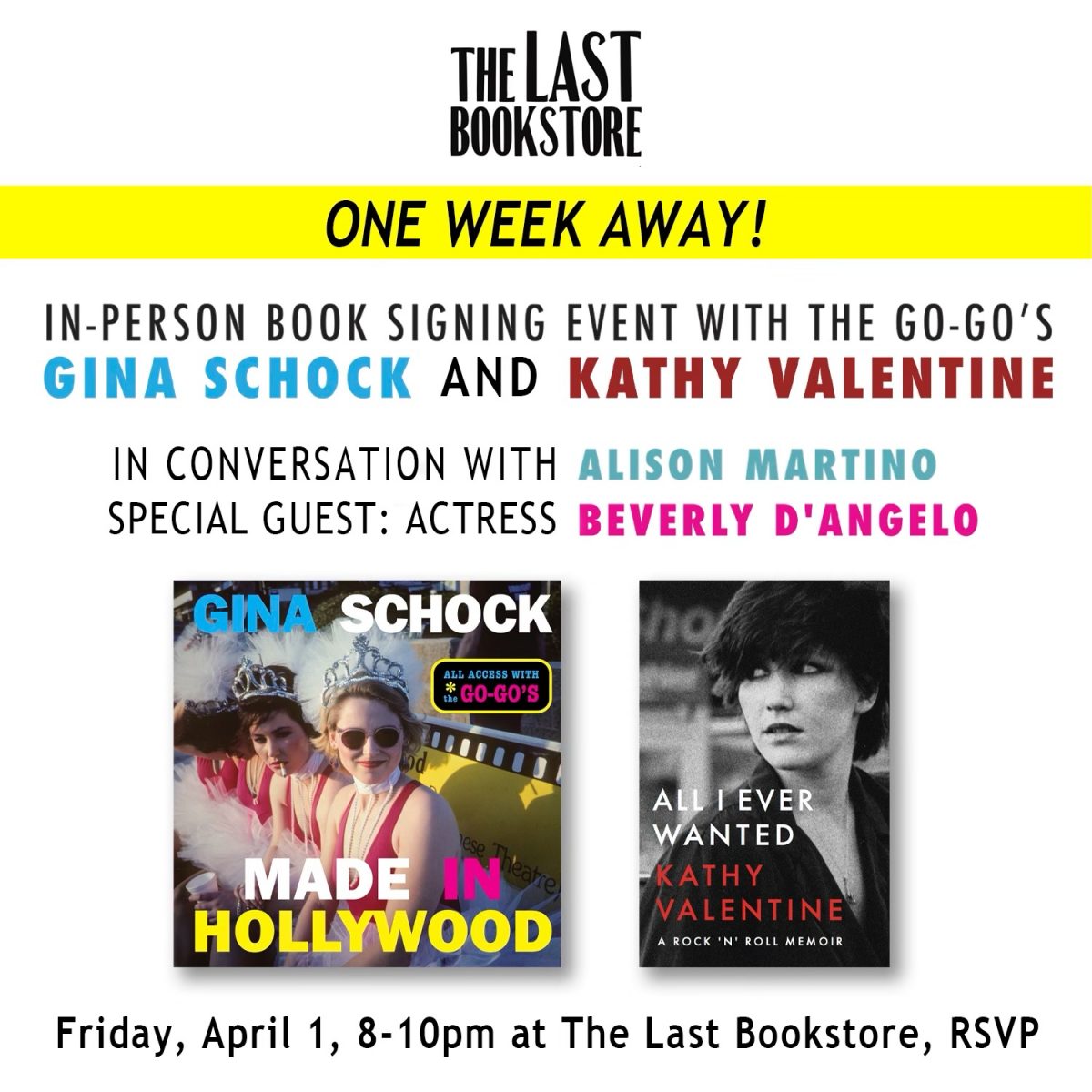 In-Person Book Signing Event at The Last Bookstore with the Go-Go's Gina Schock and Kathy Valentine
The Go-Go's Are Hitting The Road!
We're so excited to get back on the road, and we've got rescheduled tour dates for you!
3/24 – San Francisco
3/25 – Reno
3/27 – Temecula
3/28 – Anaheim
3/31 – San Diego
(Pssst: we've got a special LA show announcement coming *really* soon, and we can't wait to share it with you!!)
If you're holding onto tickets from the original dates, they're good for these new dates!
Fan Club pre-sale is this Thursday, 3/27 @ 10am PT, public on-sale is on Friday, 3/28 @ 10am PT.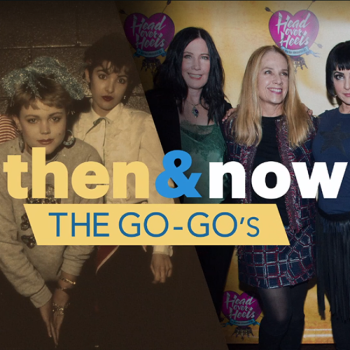 Announcement regarding upcoming December/January tour dates
A member of our team recently tested positive for COVID. ALTHOUGH WE ARE, OF COURSE, VERY DISAPPOINTED, we will be following proper protocols and postponing our upcoming west coast dates.
We will be announcing new dates VERY soon and look forward to getting back to performing and celebrating with everyone.  WISHING EVERYONE A WONDERFUL AND SAFE HOLIDAY SEASON, AND SEE YOU IN THE NEW YEAR!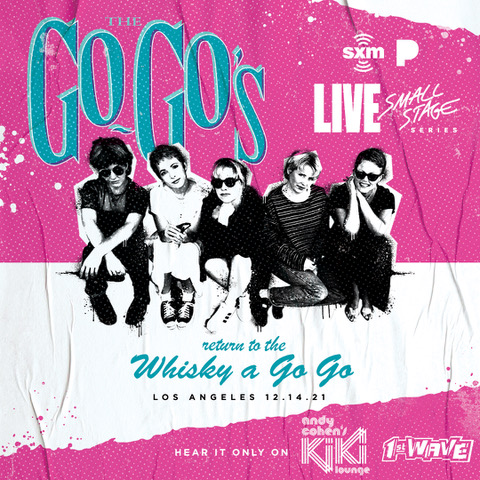 The Go-Go's Return To The Whisky a Go Go – Sweepstakes
The Go-Go's will perform at The Whisky a Go Go in LA on December 14, 2021 as part of SiriusXM and Pandora's exclusive Small Stage Series, hosted by Andy Cohen on Andy Cohen's Kiki Lounge and 1st Wave.
Visit www.siriusxm.com/TheGoGos for Official Rules, prize details, and odds.
NO PURCHASE NECESSARY. Open to current SiriusXM subscribers as of 11/12/21. Ends 12/07/21. Void where prohibited.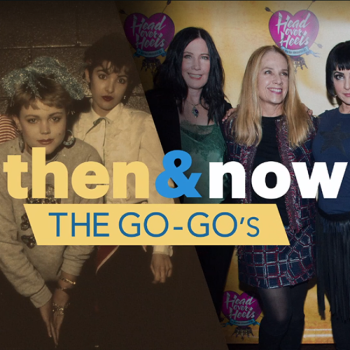 The Go-Go's documentary – World Premieres at the 2020 Sundance Film Festival
POLYGRAM ENTERTAINMENT, UNIVERSAL MUSIC PUBLISHING GROUP, FINE POINT FILMS AND FADOO PRODUCTIONS PRESENT:
THE GO-GO'S
A FEATURE DOCUMENTARY FROM DIRECTOR ALISON ELLWOOD
WORLD PREMIERES AT THE 2020 SUNDANCE FILM FESTIVAL
LOS ANGELES, CA – December 4, 2019 – This afternoon, the Sundance Film Festival announced the world premiere of The Go-Go's, a feature documentary about the iconic, groundbreaking band, directed by Alison Ellwood.
Kew Media Distribution will handle worldwide sales.
The Go-Go's is fully financed by Polygram Entertainment, the film and television division of Universal Music Group, and presented and produced by Polygram, Universal Music Publishing Group, Fine Point Films and Fadoo Productions. Alison Ellwood (History of The Eagles, American Jihad) directs the film with Trevor Birney, Corey Russell and Eimhear O'Neill producing. Polygram Entertainment's David Blackman and Daniel Inkeles are executive producing; the creative team also includes editor Brett Banks and executive producers Brendan J. Byrne and Kent Sevener. Wally Eltawashy & Arturo Cisneros serve as co-executive producers.
As the first multi-platinum-selling, all-female band to play their own instruments, write their own songs and soar to #1 on the album charts, The Go-Go's are the most successful female rock band of all time. Rooted in the LA punk scene, Charlotte Caffey (lead guitar, keyboards and vocals), Belinda Carlisle (lead vocals), Gina Schock (drums), Kathy Valentine (bass and vocals) and Jane Wiedlin (guitar & vocals) didn't PLAY the part of bad girls; they were genuine punk rockers.
The Go-Go's rose to fame following the release of their 1981 debut album, Beauty and the Beat, a collection of infectious tracks with huge hooks. Locked at #1 on the Billboard charts for six consecutive weeks, Beauty and the Beat was one of the most successful debut albums of all time, featuring the hits Our Lips Are Sealed (one of Rolling Stone's 'Top 100 Pop Singles') and We Got the Beat and resulted in a Grammy nomination for Best New Artist. The Go-Go's became a global phenomenon and blazed brand-new trails in music – for women in particular. Their meteoric ascent, however, was marred by band tension and drugs, fueled in part by their rapid rise to fame.
With full access to The Go-Go's, both past and present, this candid archive-rich documentary assesses the group's place in music history and examines the personalities and dynamics behind their rise, fall and numerous reincarnations. Until this definitive film, there has never been a serious appraisal of and showcase for The Go-Go's' talents or achievements – as musicians, groundbreakers, but even more so, as survivors.
"I've always been a huge Go-Go's fan," director Alison Ellwood states. "When the band asked me to direct this film, I was thrilled. Like a lot of people, I thought of them as this wonderful, bubbly, all-girl pop band from LA. What I've discovered is a much more complex and deeper truth."
"We lived it and we survived it," state The Go-Go's. "Now, looking back on our history through this film, we get to relive our journey as a band: the fun, the adventure, the highs and the lows. We hope this documentary will show the world that we were pioneers, and how our experience paved the way for many other female (and some male!) musicians."
"More than ever, this is the perfect time to celebrate the many barriers shattered by The Go-Go's," notes David Blackman, Universal Music Group's head of Film & Television Development and Production. "Their attitude, deceptively smart lyrics and pop rock hooks sound fresher than ever. We're excited to partner with Alison Ellwood and the entire team to bring The Go-Go's' story to Sundance."
Jonathan Ford, EVP of Sales, Kew Media Distribution says, "We are delighted that The Go-Go's has been selected to premiere at Sundance. This special documentary film takes a forthright and honest look at the music scene in the 1980s and shows The Go-Go's as true pioneers in a male dominated industry. We are sure this frank retelling of their journey will be of huge interest to audiences around the world."
ABOUT ALISON ELLWOOD (DIRECTOR)
Alison Ellwood's feature film directing credits include American Jihad, History of the Eagles, Parts 1&2, Spring Broke and Magic Trip: Ken Kesey's Search for a Kool Place. Her television directing credits include CNN's Death Row Stories, Locked In for ESPN's 30 for 30 series, No Limits for ESPN's Nine for IX series, The Human Behavior Experiments, the Emmy Award-winning series American High, The Travelers and Sixteen. She has produced and edited several feature documentary films including Oscar-nominated Enron: The Smartest Guys in the Room, Catching Hell, Gonzo: The Life and Work of Dr. Hunter S. Thompson, My Trip to Al Qaeda, and Casino Jack and the United States of Money. She was co-producer for the feature documentary Finding Fela and HBO's Brett Killed Mom: A Sister's Diary. Ellwood was consulting producer for the Sundance series Brick City and two feature films The September Issue and Food Chains. She was supervising producer for The Residents and 30 Days. Ellwood has edited for Bill Moyers Specials, the Discovery Channel, Sundance Channel, Showtime and HBO's America Undercover series.
ABOUT FINE POINT FILMS
Fine Point Films is helmed by award-winning producer/director and journalist Trevor Birney, who specializes in producing high-end documentaries for international distribution. Fine Point's most recent film Gaza, produced by the company's creative director Brendan J Byrne, premiered at Sundance in 2019 and competed in the World Cinema Documentary competition. Other 2019 titles include Caught in the Crossfire (Hot Docs), Behind the Blood (IDFA), An Engineer Imagines (Stranger than Fiction) and Wave Goodbye To Dinosaurs, directed by Eimhear O'Neill in collaboration with Fork Films for the PBS series Women, War and Peace. Fine Point's extensive production slate includes: WGA-nominated No Stone Unturned, directed by Academy Award-winning Alex Gibney, Emmy-nominated Elián directed by Ross McDonnell and Tim Golden for CNN Films, Bobby Sands: 66 Days directed by Brendan J. Byrne, which broke Irish box office records, Netflix Originals Mercury 13, directed by Heather Walsh and David Sington, George Best: All By Himself, directed by Daniel Gordon for ESPN and BBC and HBO's Emmy-winning Mea Maxima Culpa: Silence in the House of God, directed by Alex Gibney.
ABOUT FADOO PRODUCTIONS
Founded in 2012 by award-winning producer Corey Russell and Bob McCown, Toronto-based Fadoo Productions has a history of music and sports feature documentaries and series. Credits include the critically acclaimed documentary Rush:Time Stand Still, about legendary rock band Rush. Narrated by Paul Rudd, the film tells the story of the band's final tour. They also produced a companion concert film, R40 Live, which debuted at number one on the Billboard DVD chart. Other productions include, Names on the Cup, a feature documentary about the history of the Stanley Cup, narrated by Kiefer Sutherland. Most recently, they have released Killing Patient Zero, about the man blamed for the AIDS crisis in America, directed by Laurie Lynd.
ABOUT POLYGRAM ENTERTAINMENT
Polygram Entertainment produces film and television programs that provide deeper narratives and perspectives on the recording artists, music and cultural events that came to define generations. A partner of Universal Music Group, the world leader in music-based entertainment, Polygram develops, produces, finances and distributes documentary features and original, scripted projects for music fans of all ages and tastes around the world. Polygram's recent projects include the documentary Pavarotti, directed by Ron Howard and released in theaters this summer by CBS Films, Showtime's Hitsville: The Making of Motown, a documentary featuring never-before-seen footage from Berry Gordy's private archives, and The Apollo, from director Roger Ross Williams, which premiered on HBO. Upcoming projects include documentary features about the Velvet Underground from director Todd Haynes and the Bee Gees directed by Frank Marshall, in addition to the upcoming NBC series, Zoey's Extraordinary Playlist. Polygram co-distributed, with Studio Canal, the Howard-directed documentary The Beatles: Eight Days a Week – The Touring Years, a behind-the-scenes look at the legendary band's early years.
ABOUT KEW MEDIA DISTRIBUTION
Kew Media Distribution, part of Kew Media Group, distributes a diverse catalogue of film, television and digital assets to broadcasters and viewing platforms across the world. Kew Media Distribution manages international rights to a library of over 11,000 hours of TV and digital content, including major drama series, non-fiction entertainment, special event programming, kids' series, TV movies and mini-series. For more information, please visit the Company's website at www.kewmedia.com.
The Go-Go's Documentary to be released
Polygram Entertainment, the film and television production and development division of Universal Music Group, today announced four new feature documentary projects at Sir Lucian Grainge's 2019 Artist Showcase, revealing the next wave of titles that will soon be available in theaters, on television networks and streaming services.
THE GO-GO's:
Directed by Alison Ellwood and underpinned by full access to the band, THE GO-GO'S is a candid archive-rich feature documentary that assesses the iconic group's place in pop history and examines the personalities and dynamics behind their rise, fall and numerous reincarnations.
Press release:
https://umusic.box.com/s/acmlakkvnwnp8rxkuyic1onyp9c22nki
UMG's Head of Film & Television Development David Blackman introduced the film, with The Go-Go's band members Charlotte Caffey, Gina Schock, and Kathy Valentine in the audience.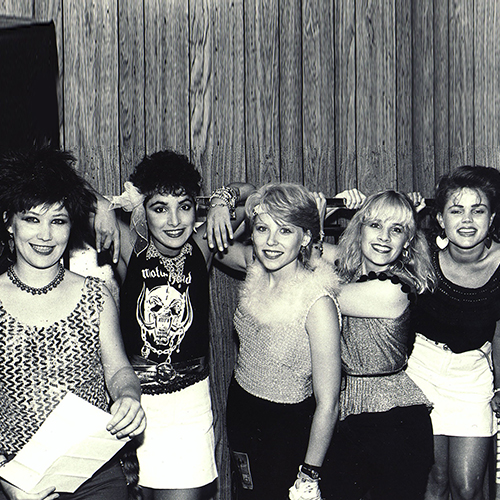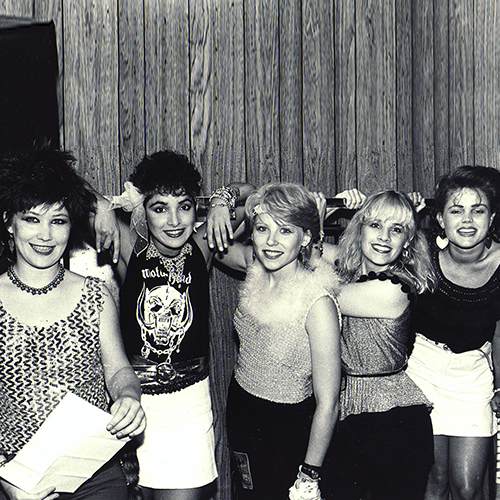 NY Times: The Go-Go's Gave Us the Beat and So Much More
When the Go-Go's' debut album came out in 1981, it provided sweet vindication for girls like me. I was a California-born punk-rock pirate marooned at a Midwestern public high school. No one invited smart-alecks to the prom, especially ones who openly mocked the idea of slow dancing to "Stairway to Heaven." Incapable of meeting beauty standards, I defied them. Patti Smith didn't shave her armpits, so neither did I. My outsider status was writ large one sunny morning, when I woke up to the message "Punk sucks" spray painted at the end of my parents' driveway.
Then along came "Beauty and the Beat." Here were five women from my homeland, in angular haircuts and thrift-store miniskirts, tauntingly singing about their own public shaming — and not giving a toss. They chanted lyrics like protest slogans in the eternal anthem "Our Lips Are Sealed": "Doesn't matter what they say/In the jealous games people play." Not only were the Go-Go's sassy and saucy, they were winning: "Beauty and the Beat" became the No. 1 album on the Billboard chart for six weeks, the first by a female collective who wrote their own music and played their own instruments.
The album remains a new wave masterpiece and a blueprint for girl-powered bands to follow. It defined a moment, of California-style MTV pop feminism, or "Valley Girl Intelligentsia," as the punk singer Kathleen Hanna later put it. Songs like "We Got the Beat" were built with a timeless durability as solidly constructed as a Motown hit. But to this day, the Go-Go's music tends to be dismissed as frothy and cute, when in fact, the band was a paradigm shifter. Just check out the cross-dressing role reversals of their 1984 video for "Turn to You," and you'll understand the rationale for teleporting the Go-Go's oeuvre — yeah, I said it — to Elizabethan England, in the gender-forward Broadway musical "Head Over Heels," now playing at the Hudson Theater.
What is it about the Go-Go's that empowers misfits? How did they puncture the blatant sexism of the music industry and claim their own right to unapologetic pleasure? What is the Go-Go's secret formula?
Three words: They. Kicked. Ass.
The Go-Go's were firmly rooted in punk. The singer Belinda Carlisle began her music career with a brief stint as Dottie Danger, drummer for the Germs, the doomed underground band from Los Angeles. In 1978, she, the guitarist Jane Wiedlin and the bassist Margot Olavarria were discussing their recent trip to see the Sex Pistols in San Francisco and decided, in true punk fashion, that they could be a band themselves. They were not the first, or the last, women to find liberation in punk's do-it-yourself ethos and antiauthoritarian energy — in Los Angeles alone, they had sisters including Alice Bag, Exene Cervenka, Phranc and the Germs bassist Lorna Doom.
But the Go-Go's used punk as a starting point, not a destination. They weren't afraid to not only rock but to pop too. Ms. Wiedlin and the guitarist Charlotte Caffey in particular began writing songs that were Brill Building-worthy with their clever lyrics and unabashed hooks. This turn toward a more accessible, less aggressive sound soured Ms. Olavarria, who left and was replaced by Kathy Valentine; the drummer Gina Schock eventually completed the lineup. The producers Richard Gottehrer, a veteran of the girl-group era, and Rob Freeman, who had worked with Blondie (as did Mr. Gottehrer), recognized the classic chassis underneath the band's dented rust and polished each song until "Beauty and the Beat" became one of those albums where on every listen, a different turn of phrase or guitar lick sticks in your head. Even the band was a bit shocked when they heard how pop the final result sounded. Then the radio adds and MTV play came rolling in.
But the Go-Go's spirit, their tough, reckless attitude, came across as sharp as ever. As a 17-year-old girl, I related to the way these songs expressed female bonding, youthful insecurity and sexual freedom. "Lust to Love" celebrated a woman's anti-romanticism: "Love me and I'll leave you," the narrator warns her mate. Sure, the hunter winds up captured by the prey, but she is still unrepentant about the game.
Patti Smith, Grace Jones, Debbie Harry and Cindy Wilson and Kate Pierson of the B-52's had shown women ways of being and creating that freed our minds and bodies. But the Go-Go's taught a new generation, who were too young for the girl groups like the Ronettes and the Crystals, the power of the girl gang. "Tonite" and "This Town" celebrated that feeling of being out of the house, out on the town, aware of your own heat and in charge of your own life.
After all, unlike the Ronettes or the Runaways (who were trailblazers in the 1970s and broke down doors for acts to follow), the Go-Go's had fuller autonomy. An important factor of the Go-Go's relatability was that they were clearly singing what they knew. They were also managed by a woman, Ginger Canzoneri, a relative rarity in the music industry of the era.
The Go-Go's were more than the sum of their parts, but like the best bands, those parts each had their own personalities, so fans could crush hard on — or want to be — a Go-Go of their choosing. I gravitate toward drummers, like Ms. Schock. But then Ms. Wiedlin was the consummate cute weirdo, smart and fun. Watching her bounce around the stage of the Hollywood Bowl in early July, at a Go-Go's concert, I realized she was the prototype for that indie icon, the Manic Pixie Dream Girl.
The Go-Go's were not the first or only all-girl rock band, of course. Later, I discovered their predecessors and peers, such as Fanny, the Raincoats and the Slits, all of whom made fantastic, dangerous music but didn't penetrate my Midwestern bubble. The Go-Go's, on the other hand, took over the then-nascent MTV along with Joan Jett, and soon, Cyndi Lauper and Madonna. And despite having announced their retirement in 2016, the Go-Go's are still going. They played three shows at the Bowl (without Ms. Schock) and joined the cast of "Head Over Heels" at the Hudson in New York on July 12. Ms. Wiedlin also has a new band, Elettrodomestico, a duo whose gender-playful videos offer timely, provocative, ear candy. Ms. Carlisle's 2010 memoir "Lips Unsealed"will tell you just about everything you want to know about the Go-Go's, and maybe some things you don't.
In 1982 my high school hosted a talent show. MTV had busted classic-rock radio's hold on America, and now everyone wanted to dress weird and be in a band. Musicianship didn't matter. My friends and I formed an air band that "played" the B-52's "Strobe Light" on tennis rackets. We were roundly defeated by other poseurs, a guy group who put on wigs and dresses for "Our Lips Are Sealed," hilariously squeezing their legs shut for the song's chorus. They could have been mocking these women who had suddenly made new wave mainstream, but I saw their act as being in the spirit of drag: both a tribute to and channeling of female energy — not a put-on, but a putting on.
Me, I'd been pogoing to the Go-Go's nonstop in my bedroom for months, and I was happy to be joined in this dance that didn't require an invitation, just a beat.
By Evelyn Mcdonnell
Source: The New York Times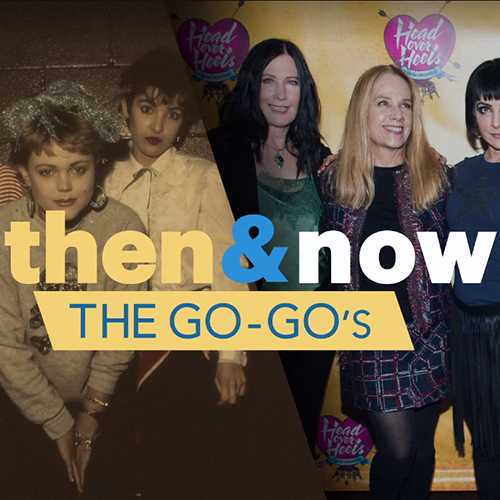 Then and Now: The Go-Go's (People TV)
Thank you PeopleTV for this rad overview of our 40 year career and for showcasing our Broadway musical Head Over Heels – The New Musical 😍
People TV: The Go-Go's ruled the pop charts in the early '80s, but by 1985 they were over. Now the girls are back, celebrating their 40thanniversary with live concerts and a brand new Broadway show, Head Over Heels. PeopleTV's new franchise Then & Now links the past with the present, thanks to rare archival footage and exclusive, in-depth interviews – so join the band as they look back on their whirlwind road to fame and the long journey back into the spotlight.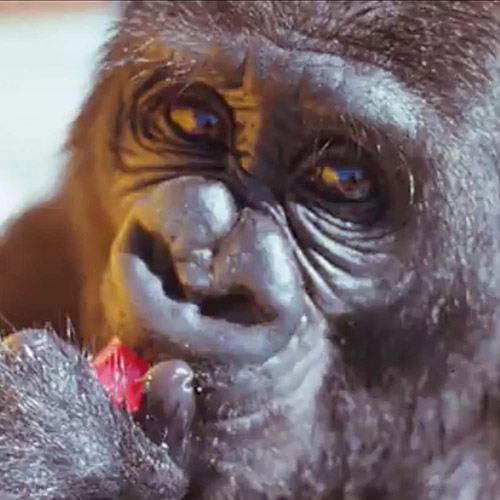 Tribute to Koko
Tribute to Koko the longest living gorilla on the planet who could speak with humans.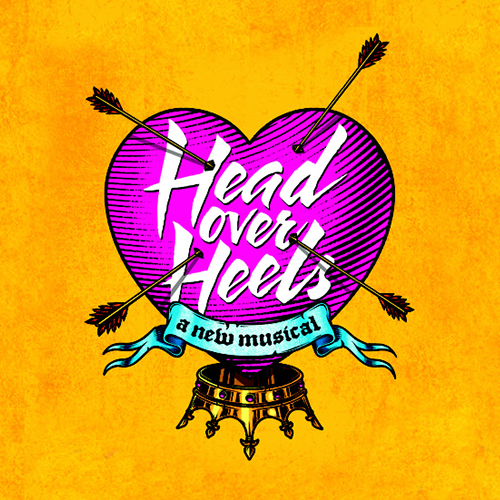 Can you hear them?? They talk about us … 😍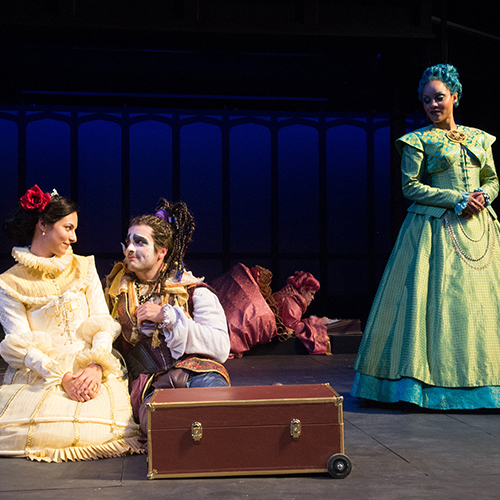 'Head Over Heels' Sets Sights on Broadway, After San Francisco
The Go-Go's are going Broadway.
A seemingly improbable musical mash-up of the group's 20th-century pop songs with a 16th-century prose romance will have a pre-Broadway production in San Francisco next spring, and the producers said Tuesday that they plan to open on Broadway after that.
The musical, a romantic comedy called "Head Over Heels," had an initial production at the Oregon Shakespeare Festival in 2015, where The New York Times called it a "funny and frolicsome concoction" but said that the book was stronger than the music. It was further developed in 2016 at Vassar and New York Stage and Film's Powerhouse Theater.
The show, based on "Arcadia" by Sir Philip Sidney, was conceived by Jeff Whitty, the Tony Award-winning book writer of "Avenue Q." Mr. Whitty did the original work on the show's book, which was then adapted by James Magruder. Tom Kitt, who won a Pulitzer Prize and two Tonys for "Next to Normal" and more recently oversaw the pop score for "SpongeBob SquarePants: The Broadway Musical," has written arrangements.
Among the songs being used: "We Got the Beat," "Vacation," "Our Lips Are Sealed," "Lust to Love" and the show's title tune.
Michael Mayer, a Tony winner for the original production of "Spring Awakening," is directing. The lead producers include the actors Gwyneth Paltrow and Donovan Leitch; the other lead producers are Rick Ferrari, Christine Russell, Louise Gund, Hunter Arnold and Tom Kirdahy.
"Head Over Heels" is scheduled to run at the Curran Theater in San Francisco from April 24 through May 20 before transferring to Broadway in the 2018-19 season.
Shows using the song catalogs of pop and rock stars have become a Broadway staple. "Escape to Margaritaville," featuring songs by Jimmy Buffett, is set to open in March, and "The Cher Show" is scheduled to open next fall.
With competition fierce for available theaters, "Head Over Heels" is the ninth show to stake a claim for 2018-19, following "The Boys in the Band," "The Cher Show," "Gettin' the Band Back Together," "King Kong," "Pretty Woman," "The Prom," "Straight White Men" and "To Kill a Mockingbird."
Source: By Michael Paulson for NY Times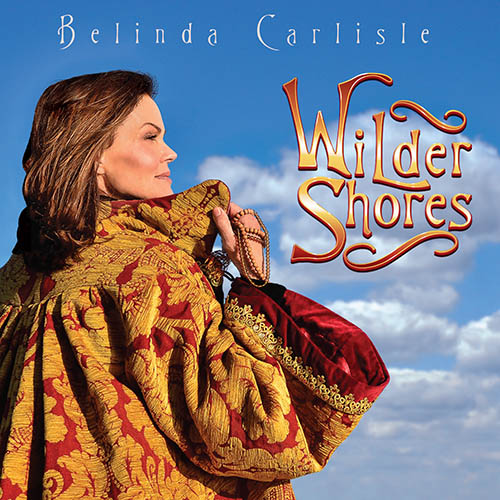 Belinda Carlisle – Wilder Shores
Wilder Shores is a genre-busting album of eastern and western influences, fusing the worlds of energizing pop music and elevating Kundalini mantras. The powerhouse voice of pop superstar Belinda Carlisle soars over these chant tracks with precision and grace. With Petra Haden on Violin, Gabe Lopez on piano and guitar, and Arjun Bruggeman on tabla, the musicality of Wilder Shores is deeply authentic to the genre of kirtan, but deftly translated into an ultra-current sound that makes these mantras sound like chart-toppers. The power of the mantras themselves to bring peace, balance and strength to the heart is supported by powerful English tracks, including a new acoustic version of Carlisle's international hit "Heaven is a Place on Earth" that fans will not want to miss. Wilder Shores is filled with music equally at home in yoga studios and rock stadiums, leading the wave of spirituality in the music mainstream. Wilder Shores debuted at #1 on the Amazon UK World Music Chart and #1 on the Amazon US New Age Chart. Listen to Wilder Shores on iTunes or Spotify.
Track list:
1. "Adi Shakti"
2. "Ek Ong Kar Sat Gur Prasad"
3. "Light of My Soul"
4. "Rakhe Rakhan Har"
5. "Har Gobinday"
6. "Humee Hum Brahm Hum"
7. "Aad Guray Nameh"
8. "Long Time Sun"
9. "Heaven Is a Place on Earth" (acoustic version)
Belinda Carlisle – "Ek Ong Kar Sat Gur Prasad"