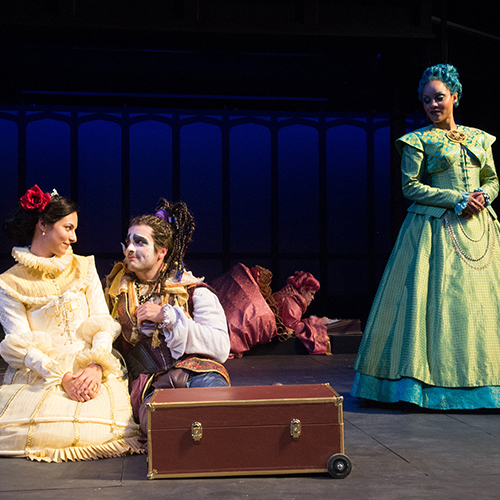 'Head Over Heels' Sets Sights on Broadway, After San Francisco
The Go-Go's are going Broadway.
A seemingly improbable musical mash-up of the group's 20th-century pop songs with a 16th-century prose romance will have a pre-Broadway production in San Francisco next spring, and the producers said Tuesday that they plan to open on Broadway after that.
The musical, a romantic comedy called "Head Over Heels," had an initial production at the Oregon Shakespeare Festival in 2015, where The New York Times called it a "funny and frolicsome concoction" but said that the book was stronger than the music. It was further developed in 2016 at Vassar and New York Stage and Film's Powerhouse Theater.
The show, based on "Arcadia" by Sir Philip Sidney, was conceived by Jeff Whitty, the Tony Award-winning book writer of "Avenue Q." Mr. Whitty did the original work on the show's book, which was then adapted by James Magruder. Tom Kitt, who won a Pulitzer Prize and two Tonys for "Next to Normal" and more recently oversaw the pop score for "SpongeBob SquarePants: The Broadway Musical," has written arrangements.
Among the songs being used: "We Got the Beat," "Vacation," "Our Lips Are Sealed," "Lust to Love" and the show's title tune.
Michael Mayer, a Tony winner for the original production of "Spring Awakening," is directing. The lead producers include the actors Gwyneth Paltrow and Donovan Leitch; the other lead producers are Rick Ferrari, Christine Russell, Louise Gund, Hunter Arnold and Tom Kirdahy.
"Head Over Heels" is scheduled to run at the Curran Theater in San Francisco from April 24 through May 20 before transferring to Broadway in the 2018-19 season.
Shows using the song catalogs of pop and rock stars have become a Broadway staple. "Escape to Margaritaville," featuring songs by Jimmy Buffett, is set to open in March, and "The Cher Show" is scheduled to open next fall.
With competition fierce for available theaters, "Head Over Heels" is the ninth show to stake a claim for 2018-19, following "The Boys in the Band," "The Cher Show," "Gettin' the Band Back Together," "King Kong," "Pretty Woman," "The Prom," "Straight White Men" and "To Kill a Mockingbird."
Source: By Michael Paulson for NY Times