From their halcyon days as America's sweethearts to their current status as superstars who pioneered a genre, The Go-Go's preside over an amazing three-decade reign as high pop priestesses. The internationally-loved pop hitmakers helped cement the foundation of the early 80's pop-rock sound without the aid of outside composers, session players or, most importantly, creative compromise. From their very first show, The Go-Go's sang and played their own songs, offering five feisty role models for a generation of ready-to-rock girls and good, hooky fun for pop-loving guys.
Their story truly is a punk version of the American Dream. They came, they saw and they conquered the charts, the airwaves and, with their kicky kitsch appeal, pop culture in general. For a while, the band was virtually inescapable: TV guest shots, magazine covers, high-profile concert tours and movie offers turned Belinda Carlisle, Jane Wiedlin, Charlotte Caffey, Gina Schock and Kathy Valentine into certified rock stars. Their sparking California pop appealed to an astonishingly wide cross-section of music fans.
Because of — or maybe in spite of — all this attention, they soared to become a pop phenomenon while having a lot of fun and blazing a brand-new trail — for the DIY ethic in general, and women in music in particular. Their self-contained battle cry was a string of irresistibly catchy, self-penned pop singles featuring Carlisle's infectious vocals, with Caffey and Wiedlin's loud, punk rock guitars and sweet backing vocals, all slammed home with Valentine's throbbing bass and Schock's big 60s beat.
Sure, before the Go-Go's debuted in May of '78, there were other all-female bands, but to a man (ahem, or in this case, woman) there was usually a seedy, cigar-chompin' guy lurking just behind the curtain, pulling strings, writing songs and shaping the image as his gals danced on his string. But The Go-Go's didn't need a doctor in their house. No Phil Spector, Kim Fowley or Sonny Bono plotted their moves. It was their baby right from the start and they nursed the bouncing infant on a diet of non-stop nocturnal nourishment in dank clubs all across the city.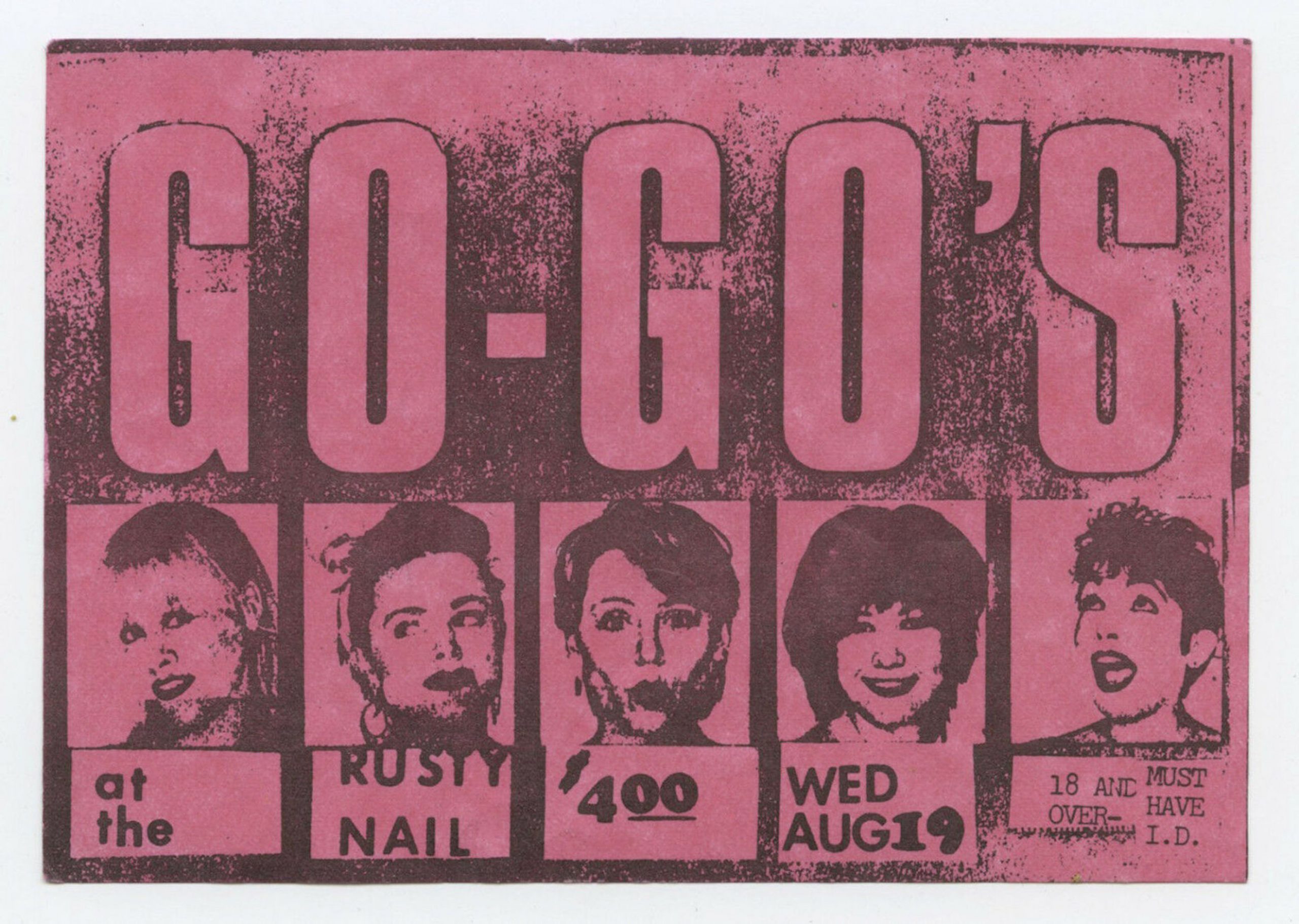 They danced to their own joyous beat from the very beginning. The Go-Go's banded together in the truest of punk ethics: there was no master plan to get signed or in any way conquer the world. In fact, when Belinda Carlisle and Jane Wiedlin (then known by her faux-tough nom-de-punk Jane Drano) met, they weren't even musicians. But since nearly everyone else in their vicious circle of friends was forming bands, they said why not? and jumped right in that darn fountain, fully clothed. The band was conceived in the very same gritty glitter of the rough Los Angeles scene that also birthed X, The Germs, and The Weirdos.
By all accounts, their first show was short, sweet — and very, very raw. They didn't care, they were just having fun. But, just as lust can turn to love, their new-found hobby turned to dedication. Two months later, real musician Charlotte Caffey joined and their sound quickly improved. The unique mix of snotty punk discord blended with sweet pop melodies was presented with a freewheeling let's have a party thrift-store chic attitude. The ensemble quickly cultivated a dedicated clique of fans and collected glowing notices in the notoriously fickle LA press.
By '79, with the addition of Gina Schock on drums, the Go-Go's were beating their path to stardom on their own terms. They played every cool club and party in L.A. and, naturally, record companies were starting to sniff around. Still, the band remained true to their punk leanings, releasing an early version of "We Got The Beat" through the quirky Stiff Records in the UK.
As '80 turned into '81, Kathy Valentine joined and by April, the band was signed to upstart new wave haven IRS records. As summer arrived, so did Beauty And The Beat, hot on the heels of their debut U.S. single "Our Lips Are Sealed." Summer turned to fall, and the world fell in love with the cute, bubbly and effervescent (and yes, they hate that description) Go-Go's.
In '94 the rejuvenated musicians contributed three new songs and extensive liner notes for the career-retrospective Return To The Valley of The Go-Go's. The band had also returned to sporadic touring by that time, occasionally revisiting the frivolity of the early 80's on stage while depressing grunge continued to rule rock radio. In 2000, their raucous and rocky off-stage history, often re-told and colorfully embellished, was unflinchingly presented in a very popular episode of VH-1s Behind The Music series with an accompanying greatest hits collection. Behind The Music: The Go-Go's Collection continues to be a strong-selling catalog item.
At this point, most bands would have happily settled into obscurity or would have desperately flung themselves into futile and embarrassing updates of their sound. But not The Go-Go's. On the strength of the VH-1 special, God Bless The Go-Go's, an all-new collection of songs was released in 2001. A stack of glowing reviews soon followed backed by a triumphant tour, later immortalized in the exciting DVD, Live In Central Park.
Today, with the original hitmaking lineup intact, The Go-Go's live shows continue to deliver every bit of the raw energy of their now-legendary punk beginnings, tempered with the wisdom of three decades of pop perfection. They have no need to change their sound to try to be modern or current or wander off on some trendy tangent. Why should they change a thing? Now, as in '81, no one sounds like The Go-Go's but The Go-Go's.
The whole world may have lost its head, but in a world gone crazy, The Go-Go's still have the beat. And now, three decades after the release of their first album, go-go music still makes us dance!