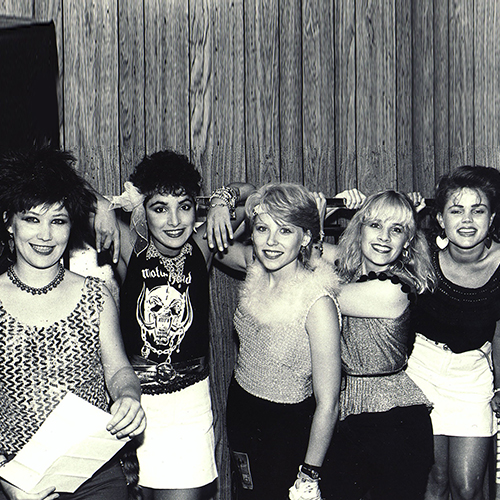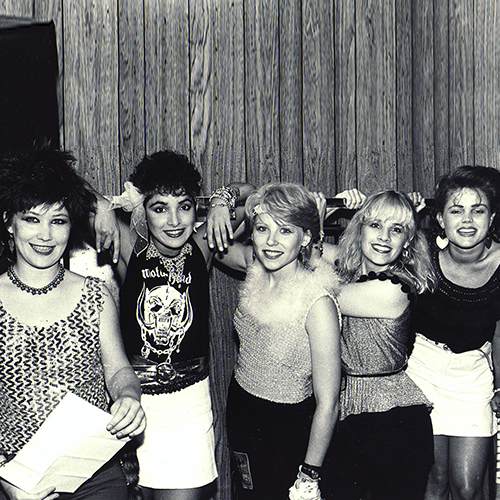 NY Times: The Go-Go's Gave Us the Beat and So Much More
When the Go-Go's' debut album came out in 1981, it provided sweet vindication for girls like me. I was a California-born punk-rock pirate marooned at a Midwestern public high school. No one invited smart-alecks to the prom, especially ones who openly mocked the idea of slow dancing to "Stairway to Heaven." Incapable of meeting beauty standards, I defied them. Patti Smith didn't shave her armpits, so neither did I. My outsider status was writ large one sunny morning, when I woke up to the message "Punk sucks" spray painted at the end of my parents' driveway.
Then along came "Beauty and the Beat." Here were five women from my homeland, in angular haircuts and thrift-store miniskirts, tauntingly singing about their own public shaming — and not giving a toss. They chanted lyrics like protest slogans in the eternal anthem "Our Lips Are Sealed": "Doesn't matter what they say/In the jealous games people play." Not only were the Go-Go's sassy and saucy, they were winning: "Beauty and the Beat" became the No. 1 album on the Billboard chart for six weeks, the first by a female collective who wrote their own music and played their own instruments.
The album remains a new wave masterpiece and a blueprint for girl-powered bands to follow. It defined a moment, of California-style MTV pop feminism, or "Valley Girl Intelligentsia," as the punk singer Kathleen Hanna later put it. Songs like "We Got the Beat" were built with a timeless durability as solidly constructed as a Motown hit. But to this day, the Go-Go's music tends to be dismissed as frothy and cute, when in fact, the band was a paradigm shifter. Just check out the cross-dressing role reversals of their 1984 video for "Turn to You," and you'll understand the rationale for teleporting the Go-Go's oeuvre — yeah, I said it — to Elizabethan England, in the gender-forward Broadway musical "Head Over Heels," now playing at the Hudson Theater.
What is it about the Go-Go's that empowers misfits? How did they puncture the blatant sexism of the music industry and claim their own right to unapologetic pleasure? What is the Go-Go's secret formula?
Three words: They. Kicked. Ass.
The Go-Go's were firmly rooted in punk. The singer Belinda Carlisle began her music career with a brief stint as Dottie Danger, drummer for the Germs, the doomed underground band from Los Angeles. In 1978, she, the guitarist Jane Wiedlin and the bassist Margot Olavarria were discussing their recent trip to see the Sex Pistols in San Francisco and decided, in true punk fashion, that they could be a band themselves. They were not the first, or the last, women to find liberation in punk's do-it-yourself ethos and antiauthoritarian energy — in Los Angeles alone, they had sisters including Alice Bag, Exene Cervenka, Phranc and the Germs bassist Lorna Doom.
But the Go-Go's used punk as a starting point, not a destination. They weren't afraid to not only rock but to pop too. Ms. Wiedlin and the guitarist Charlotte Caffey in particular began writing songs that were Brill Building-worthy with their clever lyrics and unabashed hooks. This turn toward a more accessible, less aggressive sound soured Ms. Olavarria, who left and was replaced by Kathy Valentine; the drummer Gina Schock eventually completed the lineup. The producers Richard Gottehrer, a veteran of the girl-group era, and Rob Freeman, who had worked with Blondie (as did Mr. Gottehrer), recognized the classic chassis underneath the band's dented rust and polished each song until "Beauty and the Beat" became one of those albums where on every listen, a different turn of phrase or guitar lick sticks in your head. Even the band was a bit shocked when they heard how pop the final result sounded. Then the radio adds and MTV play came rolling in.
But the Go-Go's spirit, their tough, reckless attitude, came across as sharp as ever. As a 17-year-old girl, I related to the way these songs expressed female bonding, youthful insecurity and sexual freedom. "Lust to Love" celebrated a woman's anti-romanticism: "Love me and I'll leave you," the narrator warns her mate. Sure, the hunter winds up captured by the prey, but she is still unrepentant about the game.
Patti Smith, Grace Jones, Debbie Harry and Cindy Wilson and Kate Pierson of the B-52's had shown women ways of being and creating that freed our minds and bodies. But the Go-Go's taught a new generation, who were too young for the girl groups like the Ronettes and the Crystals, the power of the girl gang. "Tonite" and "This Town" celebrated that feeling of being out of the house, out on the town, aware of your own heat and in charge of your own life.
After all, unlike the Ronettes or the Runaways (who were trailblazers in the 1970s and broke down doors for acts to follow), the Go-Go's had fuller autonomy. An important factor of the Go-Go's relatability was that they were clearly singing what they knew. They were also managed by a woman, Ginger Canzoneri, a relative rarity in the music industry of the era.
The Go-Go's were more than the sum of their parts, but like the best bands, those parts each had their own personalities, so fans could crush hard on — or want to be — a Go-Go of their choosing. I gravitate toward drummers, like Ms. Schock. But then Ms. Wiedlin was the consummate cute weirdo, smart and fun. Watching her bounce around the stage of the Hollywood Bowl in early July, at a Go-Go's concert, I realized she was the prototype for that indie icon, the Manic Pixie Dream Girl.
The Go-Go's were not the first or only all-girl rock band, of course. Later, I discovered their predecessors and peers, such as Fanny, the Raincoats and the Slits, all of whom made fantastic, dangerous music but didn't penetrate my Midwestern bubble. The Go-Go's, on the other hand, took over the then-nascent MTV along with Joan Jett, and soon, Cyndi Lauper and Madonna. And despite having announced their retirement in 2016, the Go-Go's are still going. They played three shows at the Bowl (without Ms. Schock) and joined the cast of "Head Over Heels" at the Hudson in New York on July 12. Ms. Wiedlin also has a new band, Elettrodomestico, a duo whose gender-playful videos offer timely, provocative, ear candy. Ms. Carlisle's 2010 memoir "Lips Unsealed"will tell you just about everything you want to know about the Go-Go's, and maybe some things you don't.
In 1982 my high school hosted a talent show. MTV had busted classic-rock radio's hold on America, and now everyone wanted to dress weird and be in a band. Musicianship didn't matter. My friends and I formed an air band that "played" the B-52's "Strobe Light" on tennis rackets. We were roundly defeated by other poseurs, a guy group who put on wigs and dresses for "Our Lips Are Sealed," hilariously squeezing their legs shut for the song's chorus. They could have been mocking these women who had suddenly made new wave mainstream, but I saw their act as being in the spirit of drag: both a tribute to and channeling of female energy — not a put-on, but a putting on.
Me, I'd been pogoing to the Go-Go's nonstop in my bedroom for months, and I was happy to be joined in this dance that didn't require an invitation, just a beat.
By Evelyn Mcdonnell
Source: The New York Times