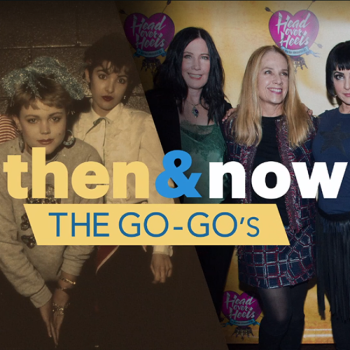 The Go-Go's documentary – World Premieres at the 2020 Sundance Film Festival
POLYGRAM ENTERTAINMENT, UNIVERSAL MUSIC PUBLISHING GROUP, FINE POINT FILMS AND FADOO PRODUCTIONS PRESENT:
THE GO-GO'S
A FEATURE DOCUMENTARY FROM DIRECTOR ALISON ELLWOOD
WORLD PREMIERES AT THE 2020 SUNDANCE FILM FESTIVAL
LOS ANGELES, CA – December 4, 2019 – This afternoon, the Sundance Film Festival announced the world premiere of The Go-Go's, a feature documentary about the iconic, groundbreaking band, directed by Alison Ellwood.
Kew Media Distribution will handle worldwide sales.
The Go-Go's is fully financed by Polygram Entertainment, the film and television division of Universal Music Group, and presented and produced by Polygram, Universal Music Publishing Group, Fine Point Films and Fadoo Productions. Alison Ellwood (History of The Eagles, American Jihad) directs the film with Trevor Birney, Corey Russell and Eimhear O'Neill producing. Polygram Entertainment's David Blackman and Daniel Inkeles are executive producing; the creative team also includes editor Brett Banks and executive producers Brendan J. Byrne and Kent Sevener. Wally Eltawashy & Arturo Cisneros serve as co-executive producers.
As the first multi-platinum-selling, all-female band to play their own instruments, write their own songs and soar to #1 on the album charts, The Go-Go's are the most successful female rock band of all time. Rooted in the LA punk scene, Charlotte Caffey (lead guitar, keyboards and vocals), Belinda Carlisle (lead vocals), Gina Schock (drums), Kathy Valentine (bass and vocals) and Jane Wiedlin (guitar & vocals) didn't PLAY the part of bad girls; they were genuine punk rockers.
The Go-Go's rose to fame following the release of their 1981 debut album, Beauty and the Beat, a collection of infectious tracks with huge hooks. Locked at #1 on the Billboard charts for six consecutive weeks, Beauty and the Beat was one of the most successful debut albums of all time, featuring the hits Our Lips Are Sealed (one of Rolling Stone's 'Top 100 Pop Singles') and We Got the Beat and resulted in a Grammy nomination for Best New Artist. The Go-Go's became a global phenomenon and blazed brand-new trails in music – for women in particular. Their meteoric ascent, however, was marred by band tension and drugs, fueled in part by their rapid rise to fame.
With full access to The Go-Go's, both past and present, this candid archive-rich documentary assesses the group's place in music history and examines the personalities and dynamics behind their rise, fall and numerous reincarnations. Until this definitive film, there has never been a serious appraisal of and showcase for The Go-Go's' talents or achievements – as musicians, groundbreakers, but even more so, as survivors.
"I've always been a huge Go-Go's fan," director Alison Ellwood states. "When the band asked me to direct this film, I was thrilled. Like a lot of people, I thought of them as this wonderful, bubbly, all-girl pop band from LA. What I've discovered is a much more complex and deeper truth."
"We lived it and we survived it," state The Go-Go's. "Now, looking back on our history through this film, we get to relive our journey as a band: the fun, the adventure, the highs and the lows. We hope this documentary will show the world that we were pioneers, and how our experience paved the way for many other female (and some male!) musicians."
"More than ever, this is the perfect time to celebrate the many barriers shattered by The Go-Go's," notes David Blackman, Universal Music Group's head of Film & Television Development and Production. "Their attitude, deceptively smart lyrics and pop rock hooks sound fresher than ever. We're excited to partner with Alison Ellwood and the entire team to bring The Go-Go's' story to Sundance."
Jonathan Ford, EVP of Sales, Kew Media Distribution says, "We are delighted that The Go-Go's has been selected to premiere at Sundance. This special documentary film takes a forthright and honest look at the music scene in the 1980s and shows The Go-Go's as true pioneers in a male dominated industry. We are sure this frank retelling of their journey will be of huge interest to audiences around the world."
ABOUT ALISON ELLWOOD (DIRECTOR)
Alison Ellwood's feature film directing credits include American Jihad, History of the Eagles, Parts 1&2, Spring Broke and Magic Trip: Ken Kesey's Search for a Kool Place. Her television directing credits include CNN's Death Row Stories, Locked In for ESPN's 30 for 30 series, No Limits for ESPN's Nine for IX series, The Human Behavior Experiments, the Emmy Award-winning series American High, The Travelers and Sixteen. She has produced and edited several feature documentary films including Oscar-nominated Enron: The Smartest Guys in the Room, Catching Hell, Gonzo: The Life and Work of Dr. Hunter S. Thompson, My Trip to Al Qaeda, and Casino Jack and the United States of Money. She was co-producer for the feature documentary Finding Fela and HBO's Brett Killed Mom: A Sister's Diary. Ellwood was consulting producer for the Sundance series Brick City and two feature films The September Issue and Food Chains. She was supervising producer for The Residents and 30 Days. Ellwood has edited for Bill Moyers Specials, the Discovery Channel, Sundance Channel, Showtime and HBO's America Undercover series.
ABOUT FINE POINT FILMS
Fine Point Films is helmed by award-winning producer/director and journalist Trevor Birney, who specializes in producing high-end documentaries for international distribution. Fine Point's most recent film Gaza, produced by the company's creative director Brendan J Byrne, premiered at Sundance in 2019 and competed in the World Cinema Documentary competition. Other 2019 titles include Caught in the Crossfire (Hot Docs), Behind the Blood (IDFA), An Engineer Imagines (Stranger than Fiction) and Wave Goodbye To Dinosaurs, directed by Eimhear O'Neill in collaboration with Fork Films for the PBS series Women, War and Peace. Fine Point's extensive production slate includes: WGA-nominated No Stone Unturned, directed by Academy Award-winning Alex Gibney, Emmy-nominated Elián directed by Ross McDonnell and Tim Golden for CNN Films, Bobby Sands: 66 Days directed by Brendan J. Byrne, which broke Irish box office records, Netflix Originals Mercury 13, directed by Heather Walsh and David Sington, George Best: All By Himself, directed by Daniel Gordon for ESPN and BBC and HBO's Emmy-winning Mea Maxima Culpa: Silence in the House of God, directed by Alex Gibney.
ABOUT FADOO PRODUCTIONS
Founded in 2012 by award-winning producer Corey Russell and Bob McCown, Toronto-based Fadoo Productions has a history of music and sports feature documentaries and series. Credits include the critically acclaimed documentary Rush:Time Stand Still, about legendary rock band Rush. Narrated by Paul Rudd, the film tells the story of the band's final tour. They also produced a companion concert film, R40 Live, which debuted at number one on the Billboard DVD chart. Other productions include, Names on the Cup, a feature documentary about the history of the Stanley Cup, narrated by Kiefer Sutherland. Most recently, they have released Killing Patient Zero, about the man blamed for the AIDS crisis in America, directed by Laurie Lynd.
ABOUT POLYGRAM ENTERTAINMENT
Polygram Entertainment produces film and television programs that provide deeper narratives and perspectives on the recording artists, music and cultural events that came to define generations. A partner of Universal Music Group, the world leader in music-based entertainment, Polygram develops, produces, finances and distributes documentary features and original, scripted projects for music fans of all ages and tastes around the world. Polygram's recent projects include the documentary Pavarotti, directed by Ron Howard and released in theaters this summer by CBS Films, Showtime's Hitsville: The Making of Motown, a documentary featuring never-before-seen footage from Berry Gordy's private archives, and The Apollo, from director Roger Ross Williams, which premiered on HBO. Upcoming projects include documentary features about the Velvet Underground from director Todd Haynes and the Bee Gees directed by Frank Marshall, in addition to the upcoming NBC series, Zoey's Extraordinary Playlist. Polygram co-distributed, with Studio Canal, the Howard-directed documentary The Beatles: Eight Days a Week – The Touring Years, a behind-the-scenes look at the legendary band's early years.
ABOUT KEW MEDIA DISTRIBUTION
Kew Media Distribution, part of Kew Media Group, distributes a diverse catalogue of film, television and digital assets to broadcasters and viewing platforms across the world. Kew Media Distribution manages international rights to a library of over 11,000 hours of TV and digital content, including major drama series, non-fiction entertainment, special event programming, kids' series, TV movies and mini-series. For more information, please visit the Company's website at www.kewmedia.com.