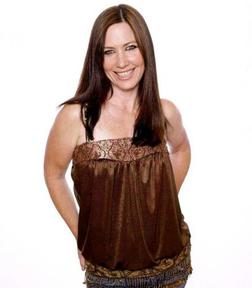 New interview with Kathy…
New interview with Kathy and the Seattle Examiner.
Next up in our series of interviews with the Go-Go's is Kathy Valentine, the band's bass player. Kathy was the last to join the Go-Go's and had already been in an all female band, having played briefly with UK heavy metal act Girlschool. She talks about her stint with that band and much more. For news about her current projects, check her website. The Go-Go's arrive in Seattle on August 14, playing Woodland Park Zoo. The band's first album, Beauty and the Beat, celebrates its 30th anniversary this year, and has been reissued, with bonus tracks.

The Go-Go's were the first all female band — as opposed to singing group — that's had a #1 record. But there aren't any others.

No, there aren't. And the other thing is of course there were many many women before us that had careers in music and whatnot, but so many of them had male figures behind them. And I think that was what as really remarkable about our success. We were just a bunch of kind of kids, really. Very young girls with not being told how to play or what to write or what to wear. We weren't packaged or put together in any shape, way or form.

The Go-Go's weren't your first all-female band. You also played in the UK band Girlschool. How did that come about?

Well, when I started playing guitar, I was 15 years old. And the women I had seen playing guitar were like Joni Mitchell and Linda Ronstadt, and they were primarily singers or singer-songwriters. My mom's English, so I'm half English, and I when I went to England with her I saw Suzi Quatro on Top of the Pops. And she was in black leather and she was a rock star, and it blew my mind. It was like "Oh my God!" I loved the Rolling Stones, and of course the Beatles, and I loved rock music, but it just didn't occur to me that a female could be a rock star. So I decided right then and there, when I came back home I got an electric guitar and an amp. And I thought I was the only 16 year old girl in the United States that was doing that. I really did. And the next thing you know, I hear about the Runaways. And I was like, Oh, I'm not the only one, there's other girls. And they were same exact age. So they came to Austin and I met them and once I saw that, I just wanted to do what they were getting to do. And when I took another trip to England with my mom, I was about 17 and I took my guitar with me. And I answered an ad in the paper; an all girl band needed a guitar player, and I joined up with the girls. And they didn't have the name Girlschool yet, but it was Kim [McAuliffe] and Enid [Williams] and Denise [Dufort] and me. And one day I got this terrible stomach ache, and I actually had to go in the hospital. And when I got out, I went to rehearsal and Kelly Johnson was there. And she was playing "Rock 'n' Roll" by Led Zeppelin. And I knew as soon as I saw her and heard her I didn't have a chance. I knew I was out. Which was cool, because I wasn't going to move to England, you know.

Then I came back to Austin and started a punk rock band, the first one in Austin. And it was all girls except for a guy bass player. And we were called the Violators. And then we decided to move to LA in 1978. And we got out there and pretty much broke up. Then I started the Textones with one of the girls from the Violators. And we played for two years. And then I quit that band and was really not sure what I was going to do in Los Angeles with myself. And that's when I met the Go-Go's.

You probably seen them play by then.

I had seen them, yeah. The first time I saw them I didn't take them seriously at all. I was very into musicianship, from the get go. When I started playing, I wanted to be really good, I wanted to be up there with Eric Clapton and Jimi Hendrix. I really wanted to be the best female guitar player ever. And I'd gotten a little sidetracked with the whole punk rock and new wave movement, where it wasn't so much about ability, and technique. So when I first saw the Go-Go's I wasn't that impressed to be honest. And then I saw them maybe a year later, and Gina [Schock] had joined the band, the drummer, and she had made a big difference. And they had a big crowd, which certainly got my attention when a band can sell out a club it gets people's attention. You notice that, when everyone's responding. So I liked them a lot more the second time.

What got you to join the band?

Well, first Charlotte [Caffey] asked if I could play the bass. And I just figured, well sure I can, why wouldn't I be able to? And she said that their bass player was ill, and that they had three sold out nights coming up in five days, and could I fill in? So I said sure. And she got me a cassette of their songs, from live shows or rehearsals, and I borrowed a bass, and I learned the songs. And as I was learning them I realized that they were really good songs and that I would like this to be more than a temporary replacement if I could do anything about it. And I didn't have to do much about it; it was just a really good fit, they liked me. For whatever reasons, they had been unhappy with their bass player and it just kind of fit. And when they asked me, about three weeks after that gig if I would consider joining, I said As long as I can be one of the songwriters. And they were really happy to have another songwriter in the band.

"Our Lips Are Sealed" and "We Got The Beat" are the best known songs on Beauty and the Beat. What other songs do you like on the record?

Well, I like the song I contributed a lot, "Can't Stop the World." I thought it was a really good addition. I actually like the whole record. We draw more from that record than any other record, live. So I think it's one of those classic albums, like the Pretenders first record, where their really isn't a clinker on the track list.

What do you think makes album hold up?

It's an iconic classic record, so that's going to hold up. I think that the Go-Go's as a group — I know you didn't ask this, but I think we hold up as well because there's no one like us. There's never been anyone like us, and there isn't anyone like us, and it's unique. I mean, if you try to say "Oh, The Go-Go's, they're a lot like…" what would you say? I've thought about this. I'm curious. What would you say? Who are we a lot like?

Well, one could say there are other groups doing a similar musical style…

Yeah but who's like us?

No one comes to mind.

There isn't anyone. I've thought about this, and we're just a very different breed. And I think that's one of the reasons,despite our inactivity and lack of tons of current effort. that there's still something unique and special about the Go-Go's. And Beauty and the Beat is what put us on the map. so hand in hand I think there could be interest ten years from now, 20 years from now. I just don't think there's anyone like this band. I just think that the chemistry and the uniqueness of the Go-Go's — it was the right record, the right songs, the right people. It was just everything was right. And I think that the same record would probably have an impact today too.