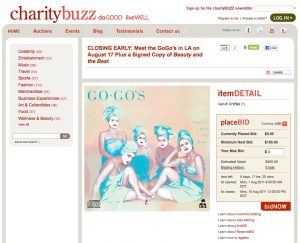 Bid on 2 tickets and a backstage meet & greet with the GoGo's at the Greek Theater in Los Angeles, CA on August 17 and take home a hand-signed copy of Beauty and the Beat on pink vinyl.
30 years after the release of Beauty and the Beat, their double-platinum debut album that cemented in our hearts and our pop-vernacular such smash hits as Our Lips Are Sealed and We Got the Beat, the Go-Go's and their fans prepare for a slew of 30th Anniversary activities for the 2011 summer and beyond. This Los Angeles homecoming show at The Greek Theater is very special as it will be held on Belinda's birthday!
The proceeds for this item benefit L.A. Gay & Lesbian and Lesbian Center. More info HERE.