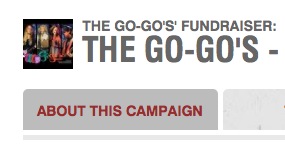 Go-Go's raising funds for K9S FOR WARRIORS
THE STORY:
K9s for Warriors rescues dogs from shelters and trains them to be service dogs for veterans with PTSD and Traumatic Brain Injury.
According to the Department of Veterans Affairs, every hour, a veteran commits suicide due to Post Traumatic Stress Disorder. Service dogs are a proven and natural cure for PTSD. The K9's For Warriors Program/Rescue trains and pairs rescue dogs with a veteran with PTSD based upon his/her special needs. It costs approximately $10,000 to produce each veteran/canine team.
The Go-Go's want to raise money to get service dogs to the American heroes, our veterans, that so desperately need help. 94% of every dollar will help a Veteran with PTSD in Los Angeles or San Francisco to receive a service dog from K9s for Warriors.
A Message From The Go-Go's:
"We are so happy to be raising money for this fantastic cause.  We hope you will want to donate, and just to spice things up a little, we are offering PRIZES!!  YES, PRIZES!!"
There will be four select prize-winners (two donors with the highest donations, and two randomly chosen donors) who each will receive the following package from the band:
*A personal phone call from the Go-Go's to you
*A customized outgoing voice message created for you by the band (with your name in it) to use on your phone
*An AUTOGRAPHED Go-Go's totebag
*A set of Gina's drumsticks and Charlotte and Jane's guitar picks, all used on-stage