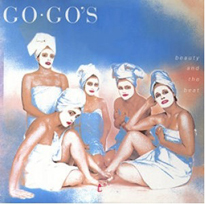 Interview w/Jane and DallasVoice.com
New interview w/Jane and the DallasVoice.com
Lady Go-Go by Rich Lopez
Nothing makes you feel older than an album from your youth celebrating a milestone anniversary. Nothing! Those defining tunes as you came of age may be timeless, but it's a reminder that you aren't.

As the seminal '80s band the Go-Go's celebrates three decades since Beauty and the Beat, time seems to have hardly touched guitarist Jane Wiedlin. With her little girl voice and sassy wit, Wiedlin has kept the same spunk she had when the iconic girl group burst onto the scene.

"In some ways it feels like three years ago and other ways, like 300 years ago," she says.

Wiedlin wants to make one thing clear: The concert she and her bandmates will give this weekend is not part of a reunion tour — there's nothing to reunite. Rather, the Go-Go's just aren't "a very active band" who have taken "a big chunk of time off."

Whether or not she's kidding, the tour has injected the band with a vigor that they'll put on display Friday at the House of Blues. Dallas thought they might get a nostalgic taste of the band when they were set to perform last year. But Wiedlin unintentionally derailed that.

"It was the day after my birthday and a few of us decided to take a midnight hike up to the top of this hill," she explains. "We wanted to have this epic light saber battle. But as we walked home, I literally fell right off a cliff. I heard my knees explode; I was rolling through poison oak! I went and found the cliff and I had fallen about 15 feet."

Such an anecdote reveals several things about Wiedlin: She's an admitted Star Wars geek, and she's the adventurous type. She has a limp now, but otherwise, she's back in the game. The time off gave her some time for introspection — about touring in the early days, the fun the ladies had on the road and the experience of putting those shows together. Even with the ups-and-downs of the band, she thought everyone was having the best time possible — why not again?

"You know, I get sucked into the minutiae of being onstage, but it's extraordinary," she says with little gasps. "Our intention is to make this tour the most fun we've had in decades, which will make it fun for other people."

Which seems like a given with such musical faves like "We Got the Beat," "Vacation" and "Head Over Heels." But is new music in sight for the band that never really broke up? Wiedlin and the gang aren't ruling it out.

"It looks possible to record together, even though we don't have to have a major label," she says. "That used to be such a big deal to make music, but now with the web, it's very DIY. Like getting back to those '70s punk rock days. Charlotte [Caffey] and Kathy [Valentine] just wrote a new song for the band."

Wiedlin gives the impression that she can't sit still, whether she's a star in the comic book Lady Robotica, partaking in her admission that she's a BDSM perv or acting in indie films, Wiedlin's voice suggests she may never stop working — whatever the work may be.

"I'm working all the time. I just wrote and directed my first sci-fi movie, The Pyrex Glitch," she says. "That's on the film fest circuit. Hopefully people will find it as funny as I do. But we're all really busy. Belinda [Carlisle] has her jewelry and textile company and Gina [Schock] is been writing songs for Miley Cyrus. Everybody is still so active even though we're old."

Wiedlin has discussed her bisexuality, although she prefers to stay away from labels. In an interview with AfterEllen.com, she told the site she's had sex with both sexes, but that "bisexuality is such a loaded term." But she loves her gays and as Prop 8 played out in California, she experienced both the joy of gaining equality and the disappointment of marriage privileges being taken away.

"For a few months in the summer of 2008, we got equal rights," she says. "I wanted to be part of that celebration! But then Prop 8 happened and I've been fighting it ever since. I became an ordained minister to marry same-sex couples. I'll go anywhere to do that so people can be together as they should be. Oh, and as a disclaimer, I'm completely non-religious."

Her focus is now on the tour and even with her bum knees, she laughs off any obstacle that would keep her from enjoying giving a good show. And while the audience will hear Go-Go's hits and perhaps even Carlisle's, don't be so sure on hearing Wiedlin's one-hit wonder song "Rush Hour." The pop confection made a top 10 splash back in 1988. In fact, she's almost betting on it.

"You know, that song has been a thorn in my side," she chuckles. "It is so hard to play live because it has like millions of synths in it. I've never been able to crack it to make it sound good, but I'd love to hear Belinda sing it."

We'd go for that.