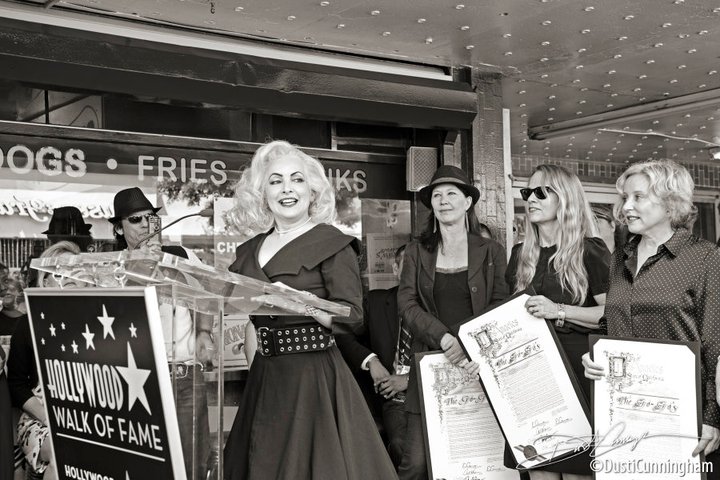 Jane's speech from the Star ceremony
Yesterday was an incredible day! 🙂
While we organize all the photos/video and press clippings … you can watch Jane's speech.
Thank you so much for this incredible honor.
In 1978, on this very corner, the Go-Go's were born. We rehearsed and performed our very first concert in the basement of that theater. At the time, the basement was a punk-rock club called The Masque.

This location was the epicenter of the Los Angeles punk-rock movement. We lived just one block away, in a beautiful old apartment building called The Canterbury. The Canterbury had been built in the 1920's to house up&coming starlets and, as a young all-girl band, that really appealed to us! When we discovered it as punk rockers it was filled with prostitutes and people living on government SSI money. It was perfectly situated for us. We could walk to our rehearsals and shows.

Photo by dusti cunningham

Life was exciting then and filled with possibility. Hollywood was sort of tawdry in those days, but that doesn't mean we didn't love it and recognize the glamor under the grit. We loved the Walk of Fame even then, and in our wildest dreams, we couldn't have predicted that our little band would someday have a STAR on the Walk and that Hollywood would be rejuvenated and once again become the Glamor Capitol of the World.

The arc of the Go-Go's story could not be more fairy-tale. From our humble origins right here on this spot as a young punkrock band, to our giddy rise to stardom culminating in a sold-out show at the Hollywood Bowl, just a few blocks away, and now, 30 years later, to be honored with this Star, well let's just say it's a story that proves that truth really is stranger than fiction. We are so proud to be a HOLLYWOOD band and to be honored with this legendary tribute.

This star couldn't have happened without the campaign spearheaded by our wonderful fans. We know many many of you worked very very hard to achieve this. We would especially like to thank Joseph Vidaurri, Jim Ginter, DeDe Kelez and Lee Smith for their dedication to this project.

In closing, I'd like to quote one of our own songs:
"THIS TOWN IS OUR TOWN, IT IS SO GLAMOROUS, BET YOU'D LIVE HERE IF YOU COULD AND BE ONE OF US."
Thank you!