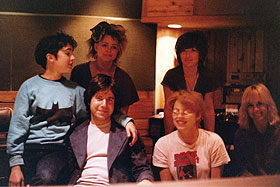 Classic Tracks: The Go-Go's "Our Lips Are Sealed"
Interesting article about the recording process for "Our Lips Are Sealed." Co-producer and recording engineer Rob Freeman is interviewed  and quotes from Belinda's memoir are liberally borrowed.
Nothing says 1980s L.A. like The Go-Go's on the radio. Those sweet, bright, infectious songs were the perfect soundtrack for a sunny day—still are, though 30 years have passed since one of rock 'n' roll's first all-female bands released their debut album, Beauty and the Beat.

The Go-Go's formed in the midst of L.A.'s late-'70s punk scene. None of the founding members—Belinda Carlisle, Jane Wiedlin and Margot Olaverra—were professional musicians. They were friends who bonded over shows by bands like The Germs and The Dickies.

In her recent memoir, Lips Unsealed, lead singer Carlisle recalls being outside a party in Venice, Calif., and the exact moment three fans became bandmates: "…the three of us found ourselves sitting on the curb with beers and cigarettes. We talked about the Sex Pistols' show in San Francisco, which was still fresh in our minds, and I added stories from my trip to London, and eventually we were talking about starting our own band…It was like making a pact." …. read the rest of the article HERE.