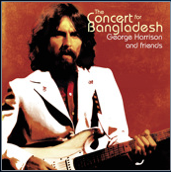 UNICEF's Month of Giving
The Go-Go's are honored to be a part of the George Harrison Fund for UNICEF's 
Month of Giving
, to honor George's legacy of giving.  This August celebrates the 40th anniversary of the Concert for Bangladesh, the first major music concert for a cause.  George Harrison launched this legendary event because his friend Ravi Shankar asked him to help the people of Bangladesh. Now we can help honor the legacy of George and support UNICEF's efforts to help save children's lives in Africa.  Watch the concert, donate and download
HERE
.
We love and have always honored the genius of The Beatles, but George wasn't only a Beatle, he was also a well-respected humanitarian. We are happy to join our
 friends and fellow musicians
 in this important campaign.
More than 2 million young children are acutely malnourished in drought affected Kenya, Somalia, Ethiopia and Djibouti. Requiring immediate life-saving attention to survive, half a million children's lives hang in the balance.  We know that George would have wanted to help these children and their families. We are pleased to be able to say that our efforts throughout the Month of Giving are going to help raise funds for UNICEF's emergency response in the Horn of Africa to save children's lives.  To jump start this fundraising initiative, the George Harrison Fund for UNICEF, which was founded by Olivia Harrison, wife of the late George Harrison, is immediately releasing $1 million to UNICEF for emergency efforts in the Horn of Africa.
Go
HERE
for more information.