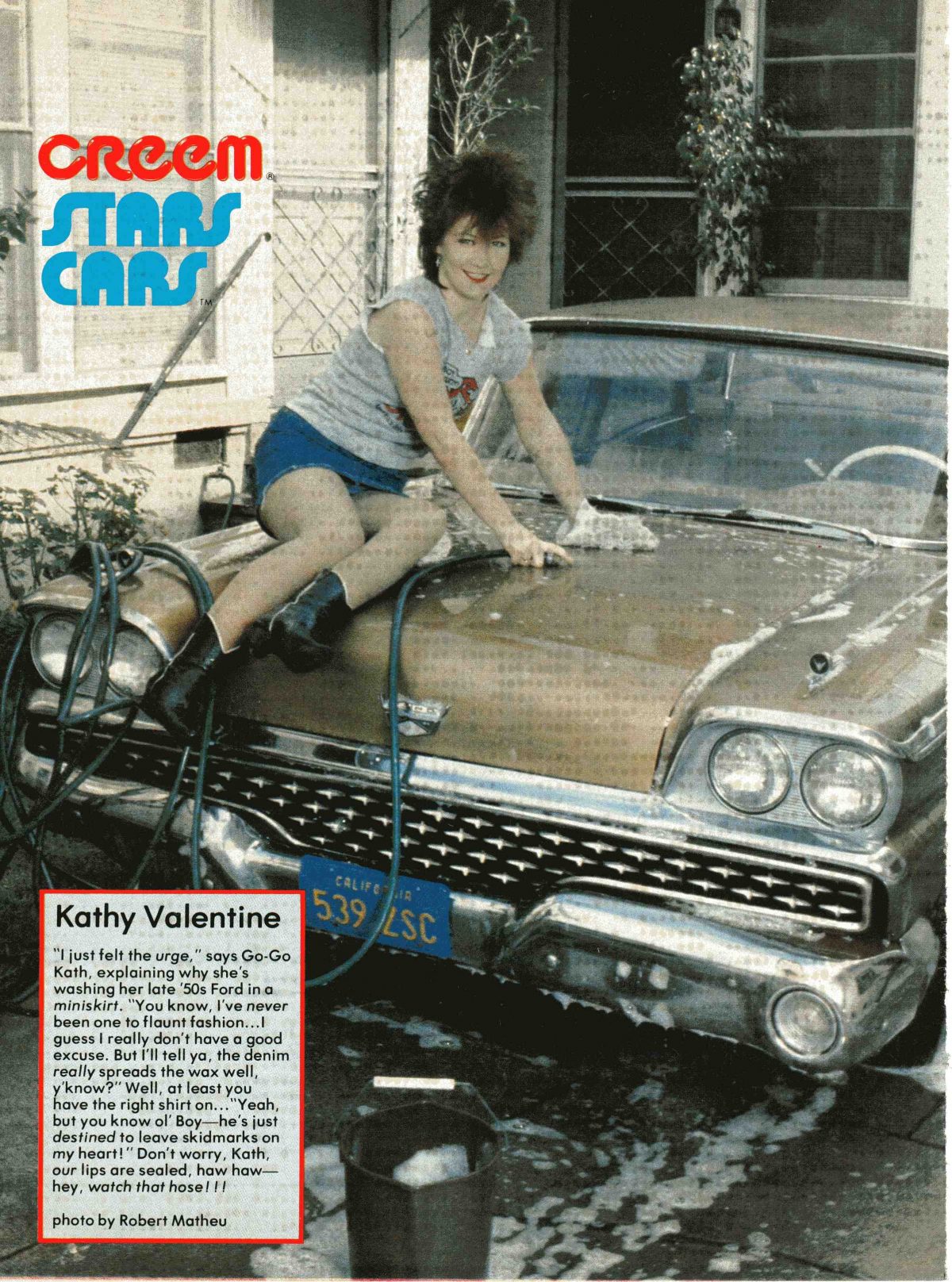 New interview with Kathy…
Go-Go Valentine romanticizes Hub
By Jed Gottlieb / Music / Boston Herald
A vacation is all they ever wanted, but it's not what the Go-Go's are getting. After guitarist Jane Wiedlin injured her knee last year, the band canceled a planned farewell tour. When Wiedlin, singer Belinda Carlisle, guitarist Charlotte Caffey, bassist Kathy Valentine and drummer Gina Schock regrouped earlier this year, they decided they didn't want to retire after all.
Ahead of the band's Thursday show at Bank of America Pavilion with the B-52's, Valentine phoned to talk about Carlisle's voice problems, tweeting her memoir 140 characters at a time, the new "Beauty and the Beat" reissue — with a bonus disc from an '81 Boston Metro show — and keeping the band's flame burning.
Herald: I saw the band had to cancel two shows because of problems with Belinda's voice. Is everything OK?
Valentine: Yeah. These problems are kind of a drag, but there's nothing the band can do about it. It's not like she's out partying late-night. It just happens. I've been following Duran Duran on Twitter and saw that Simon Le Bon had to cancel some shows. Adele canceled her tour. It happens, but she'll be fine.
You're a bit of a Twitter addict aren't you?
I love Twitter. I'm a Twitter-oholic. To me Twitter is about not getting as many followers as you can, but about connecting with people. Some people bemoan the new age and how celebs, or pseudo celebs, have no mystique. But I like being known for who I am and not just what I've done.
But you're taking it a bit further. You've created a separate Twitter account for your memoir. And you've been really unflinching while doing this, writing about rape, abortion and a home invasion.
It's a format where I can be honest without being overly dramatic. As a songwriter, I've learned to be succinct and that's what this takes. The idea came after Belinda's book ("Lips Unsealed"), and the response was good so I kept with it. Now I've been contacted by literary agents and after this tour will try and see about getting it in book form.
The "Beauty and the Beat" reissue comes with a second disc from a show at the Metro in 1981. Do you remember anything about that show?
Sure, it was our first big show in Boston. We'd played the Rat and that was the first time I'd been to Boston. Then came the Metro, then the Garden. It was some rise. But I do remember that gig. Everything we did, it seemed amazing, if it never got better than that (show at the Metro) it would have been amazing.
After that rise and fall and now your latest return and reunion, can you see how important your band was with this hindsight?
Yes, like writing my memoir, I like being able to visit the past from this nice, safe place. I realize what a privilege it was and is to be in this band. Some bands were one-hit wonders, and that's great, but our niche in history is something more. We were five women who did what no one else had done. There were times when I was embarrassed to be a Go-Go, when I thought it was a liability, when the only thing that kept me from quitting was that it was too irritating to think of another girl taking my place. But now I see how great it was and just what we did. I wouldn't trade that. I don't know what's next but it's nice to feel connected to the band going forward.