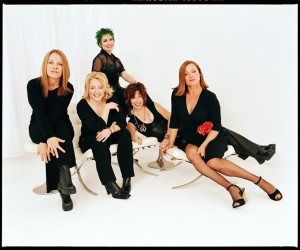 Message from the Go-Go's!
Greetings Go-Go's fans!
We hope to see you at several of our events this summer. We will make sure to keep you updated about all our happenings and keep you in the loop with exclusive, insider information too. We aren't limiting our activities to just touring this summer. We have several other in-person appearances lined up and we're looking forward to seeing you, our fabulous fan-base at these events. One such event is just around the corner, and we're making an exclusive contest for all of you to participate in.
As many of you know, The Go-Go's will be performing on Good Morning America this Friday, June 3rd (More details HERE)
We will be releasing FOUR FREE VIP PRIORITY ACCESS WRISTBAND TO SEE THE GO-GO's in New York, Rumsey Playfield in Central Park, for EVERY ONE OF YOU that posts a 1-minute video of themselves performing their favorite Go-Go's song!
Every entry must send their video link along with their email address and name, so we can contact you, to info@gogos.com. Do not send us the file.  Please upload your video to YouTube (or another video site) and send us the URL.
If you tweet, please tweet the link to your video, so we can RT it and share your entry with our social media fans. Make sure you are following @officialgogos, so we can DM you (and because our tweets ROCK!), make sure to mention @officialgogos in your tweet, and be sure to use the hashtag #GoGosGMA in your tweet.
The first-place winner will be picked by the band and get a special video shout-out by your name from the Go-Go's! The Go-Go's will tell the world that your video was their favorite!
But remember, EVERY submission gets FOUR free VIP front of the line, no camping with the rest of the crowd, priority access to the taping of the GMA show, featuring the Go-Go's. Contest ends Thursday afternoon. Winners must get themselves to NYC, sorry! 🙂
We hope you have already purchased your limited edition PINK VINYL RECORD of Beauty and the Beat, but if you haven't, you can get it here. In addition, we're proud to offer you all our reissued version of the original album on CD, re-mastered and with a bonus live disc. You can get it on Amazon or iTunes.
Finally, we have some cool Go-Go's T-shirts that will be available on our site soon, so stay tuned, and see you on tour! We look forward to seeing you there and to having you here, as a part of our community.
ONE-TWO-… G-O, G-O!
xoxo
The Go-Go's