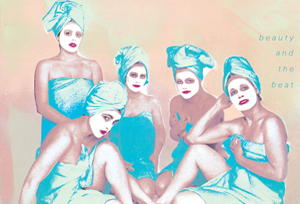 Beauty and The Beat re-mastered 30th Ann Edition
THE GO-GO'S 1981 LANDMARK DEBUT, 'BEAUTY AND THE BEAT,' REMASTERED AND EXPANDED FOR 30TH ANNIVERSARY EDITION TO BE RELEASED MAY 17 BY CAPITOL/I.R.S.
2CD & Two Digital Collections Feature Exclusive, Previously Unreleased Concert Recordings; Remastered Original Album to be Reissued on Pink Vinyl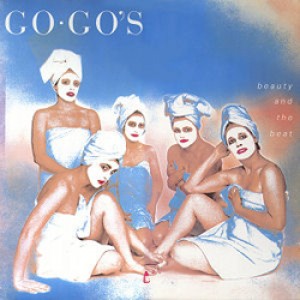 The Go-Go's Ladies Gone Wild Tour Will Cross the U.S. This Summer
Hollywood, California – April 26, 2011 – The Go-Go's double platinum debut album, Beauty and the Beat, has been digitally remastered and expanded for a 30th Anniversary Edition to be released May 17 by Capitol/I.R.S. The commemorative edition will be available in a 2CD package and in two digital collections featuring the remastered original album plus exclusive, previously unreleased concert audio recordings from 1981. On the same date, the remastered original album will be reissued on pink vinyl with replicated original artwork.
Beauty and the Beat was the Go-Go's debut album, released in 1981 by I.R.S. Records. The album hit #1 on Billboard's Top 200 Albums chart, and was the first album to top the chart by an all-female band that wrote and performed its own songs. The album's singles, "Our Lips Are Sealed" and "We Got The Beat," also charted in several countries, fueling album sales of more than two million in the U.S. alone. Beauty and the Beat is considered one of the decade's defining albums and it is on Rolling Stone's list of the '500 Greatest Albums Of All Time.'
The Go-Go's will hit the road this summer on their Ladies Gone Wild tour, a national U.S. trek with the legendary Belinda Carlisle, Charlotte Caffey, Gina Schock, Jane Wiedlin and Kathy Valentine. The tour will include a very special Los Angeles homecoming show at the Greek Theater on August 17, Belinda's birthday. An exclusive VIP package will be available in most tour markets for fans to meet the band and purchase limited edition merchandise. In August, the Go-Go's will receive a star on the Hollywood Walk of Fame.
Last summer the Go-Go's had scheduled a farewell tour which was subsequently canceled when guitarist Jane Wiedlin required surgery after suffering injury to her knees in a hiking fall. During the band's time off, they decided they were not quite ready to hang up their instruments and set to work preparing for this summer's 30th Anniversary spectacular, Ladies Gone Wild.
Their story truly is a punk version of the American Dream. They came, they saw and they conquered the charts and airwaves with their kicky kitsch and sparkling California appeal, five feisty role models for future generations of ready-to-rock girls. From their halcyon days as America's sweethearts to their current status as superstars who pioneered a genre, the Go-Go's preside over an amazing three-decade reign as high priestesses of pop.
Today, the Go-Go's live show continues to deliver every bit of the raw energy of their now-legendary punk beginnings, tempered with the wisdom of three decades of pop perfection. Don't miss the celebration and a chance to go wild with the ladies of the Go-Go's.
The Go-Go's: Beauty and the Beat [2CD; digital collection 1]
Disc 1 (original album, remastered)
1. Our Lips Are Sealed
2. How Much More
3. Tonite
4. Lust To Love
5. This Town
6. We Got The Beat
7. Fading Fast
8. Automatic
9. You Can't Walk In Your Sleep (If You Can't Sleep)
10. Skidmarks On Your Heart
11. Can't Stop The World
Disc 2 (Live At The Metro in Boston, 1981 – ALL TRACKS PREVIOUSLY UNRELEASED)
1. Skidmarks On Your Heart
2. How Much More
3. Tonite
4. Fading Fast
5. London Boys
6. Cool Jerk
7. Automatic
8. Lust To Love
9. Can't Stop The World
10. This Town
11. You Can't Walk In Your Sleep (If You Can't Sleep)
12. Our Lips Are Sealed
13. Let's Have a Party
14. We Got The Beat
15. Surfing And Spying
16. (Remember) Walking In The Sand
17. Vacation
The Go-Go's: Beauty and the Beat [digital collection 2]
1. Our Lips Are Sealed
2. How Much More
3. Tonite
4. Lust To Love
5. This Town
6. We Got The Beat
7. Fading Fast
8. Automatic
9. You Can't Walk In Your Sleep (If You Can't Sleep)
10. Skidmarks On My Heart
11. Can't Stop The World
12. Skidmarks On My Heart [Live]
13. Can't Stop The World [Live]
14. Our Lips Are Sealed [Live]
15. Let's Have A Party [Live]
16. We Got The Beat [Live]
Media Contacts
For Capitol/I.R.S.: Jennifer Ballantyne – EMI Music North America
(323) 871-5494 / jennifer.ballantyne@emicap.com
For the Go-Go's: Jenny Bendel – Rock 'n Load
(206) 979-2202 / jenny@rocknload.us