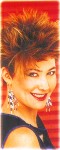 Interview with Kathy

Charlotte Robinson for MarthaQuinnPresents.com did a great new interview with Kathy! Check it out.  🙂
It's oddly appropriate that Kathy Valentine is the bassist and a songwriter for the Go-Go's, since she seems to be going and going constantly, with tons of simultaneous projects. In addition to gearing up for a summer tour with the '80s chart-toppers, Valentine plays guitar with the more blues-based BlueBonnets, is raising a daughter, and is writing her memoir on Twitter (www.twitter.com/kvmemoir). She spoke to Martha Quinn Presents from her home in Austin, Texas, where her dog and cat were busy grossing her out by picking up lizards.

How did you get the idea of writing your memoir on Twitter?

I got the idea when Belinda [Carlisle]'s memoir was coming out. As a joke, on my regular account I said, "I'm going to Tweet my memoir." I put one or two entries, and as soon as I did it, I liked it. The people that read it, I get really good responses and I enjoy it. I like the format a lot. I think people have short attention spans and it's a perfect way to tell a story.

You were the last to join the Go-Go's. They started as kind of a punk band, while you had the Texas blues roots. What was your common musical ground and what role did you play in the band?

Growing up in Austin when I was a teenager and into music I liked blues but there were also cool cover bands that did David Bowie and T. Rex and stuff and I loved the Stones. I'd go see country music. I loved the Beatles. I have a pretty broad spectrum of musical background. When it came to punk rock, I loved the more melodic stuff than the angry stuff. I thought the Sex Pistols' record was phenomenal, but it was melodic. I loved the Ramones. There was a lot of common ground. I loved the Buzzcocks. I loved the more new wave bands. Blondie was one of my favorites. When the Go-Go's are called a punk band a lot of that is contextual. They came up in a punk scene that allowed people that weren't good players to get onstage and say they were in a band because the punk attitude was "Hey, we can do this too. Screw you. We can do whatever we want." That was the ethic, the context, that was what defined them as a punk band.

There was nothing real rebellious about the Go-Go's ever. It wasn't anything revolutionary. It wasn't the Sex Pistols, let's put it that way. It wasn't the Clash. So there wasn't much of a discrepancy [between us]. I think they were more of a pop band in their sensibilities. When we recorded a record people looked at it like some big makeover but really those were the songs. When I sat down to learn the songs I was immediately struck by how well crafted and what good lyrics there were and what good melodies, and that was the essence of the musicality of the Go-Go's, was the lyrics and the melody, the songwriting craft. That's what made me want to join the band.

You did a lot of songwriting too, including on "Vacation," a song you brought with you from your former band, the Textones. Could you talk about the songwriting process or inspiration for it?

Yeah, I just listened to [the Textones' version] not too long ago and I was amazed how almost exact it is to the Go-Go's. When I showed it to Charlotte [Caffey], there was one part where I said, "Vacation, all I ever wanted" and we just made that part longer and more like a full chorus but everything else was there. It was an intact song and it was written from the heart, from a true experience. I had flown home to Austin to visit and have a little vacation and I met someone. Then I had to go back to LA and I wrote it on the plane. In the time it took to fly back, I wrote the lyrics. I remember writing it and showing it to Charlotte and her loving it. I was really happy and surprised when it became the title track and the first single off the second record.

You talk a lot in your memoir about the problems the Go-Go's had over issues with songwriting credits. Do you have any words of wisdom for bands just signing a record deal on how to deal with this thorny issue?

It's one of those issues that's not black and white. In our case the dissension and bad feelings of the people who didn't write as much caused problems. Maybe in our case we should have weighted out, "We have something special and magical and we should all be cool with it. Maybe it's better to split up the songwriting so everyone's compensated." But there's other bands where one person's doing it all. I don't think someone like Prince is going to split up his songwriting. So it depends, if there's like a visionary or a driving force within a band, that's the way it is.

I don't think it occurred to us that we were going to sell four million records. If somebody had said, "That record you're doing now, this band is going to sell millions of copies, and some of you are going to make five times as much money. How do you want to do it?" I think we would have done it different.

You've worked with a lot of people since the Go-Go's broke up, but as you say in your memoir, you've never found the same level of chemistry. Is it weird or frustrating to still be talking about music you did 20 to 30 years ago? And to be known as a bass player, when you are primarily a guitarist?

There were many times in my life where it was a tender spot for me that I wasn't known as being a guitar player when I was one of the better women guitar players out there. The irony for me is that I'm not even a very good bass player. I'm very good in the Go-Go's – there's not a better bass player for the Go-Go's. For some reason it just clicks. But I'm at peace with that. I like my role in the band now, what I do. When I go in and play bass my job is to make everyone else sound as good as I can. Me and Gina [Schock]'s job is to make it solid and driving. I pay such close attention to what Jane [Wiedlin] and Charlotte are doing because I'm a guitar player and when I hear something that I think needs a little movement I move around on the bass. If I hear something Jane is playing that I can bolster up and play solidly with her. It's a cool role and I enjoy it because I'm super aware as a musician and it's a fun thing to do when you're playing, to be aware of what everyone else is doing and fit what you're doing to fit the whole.

I would love the opportunity to play the guitar in front of thousands and thousands of people but I'm also at a different place in my life, where I don't want to work for that. I could probably get a job in a band as their guitar player and be seen as a guitar player but that time in my life is over. I don't want to leave my kid. So I get my jollies out playing with my band and doing recordings and stuff. Also I get to nurture other girl guitar players and help them get the exposure that I didn't get – live vicariously.

Has your daughter seen you play?

Yes. Each time she's a little older. She'll see a couple shows this summer. She gets to hear us on the radio every now and then and she's always excited and proud. "Mommy, it's your song!" Of course what she really wants to know is if she comes on tour will she meet Katy Perry? I'm like, Katy Perry's not going to be on our tour. "Yeah, but you have the same manager. Maybe he'll bring her to your show."

She's eight and she's working her connections already.

I know. Well, I worked my connections big time to get her to meet Miley Cyrus. I kind of set the bar. Now I think she thinks Mom can do anything.

Do you hear from many female musicians that were influenced by the Go-Go's?

Oh yeah, all the time. From males, too. When we were in Japan we were hanging out with Green Day. The drummer, Tre, said he learned to play drums by listening to the Go-Go's records. I remember meeting Courtney Love when the Go-Go's were at our height and she was just some chick hanging around. She was asking "What's it like? What's it like to be in a big band?" I don't know if people talk about it. We didn't talk about it when we were big – we didn't talk about who inspired us. But I do hear from people.

Is a Go-Go's movie still a possibility?

It didn't go anywhere. And unfortunately the Runaways movie was a pretty major flop, so studios don't want to make other movies of that genre. I was really jealous when they got their movie and we didn't because we've had it in the works several times and it didn't come through. But then when I saw how it was done and how Lita and Sandy were just written out, I thought god, I'd be devastated if the Go-Go's had been a movie and I'd been this marginal, nothing character. It would just be awful. So when I saw that I was so glad we'd never done a movie, because I'm sure I'd be the one that was left on the cutting room floor. Who wants to feel that way?

What is your current life in Austin like?

Life in Austin is like it would be anywhere. I try to make sure my daughter's happy, secure, and thriving and stimulated, that her life has some adventure. I try to be creative every day in some way. At the same time there's things I want to accomplish I haven't got started on. I want to write a script, a movie, really badly. I want to produce another record. I want to do more solo stuff. I want to get a college degree. That's what life is – all those big things floating around waiting for me to sink my teeth into them and try to get them done, meanwhile the day to day.

Are you recording in your home studio?

I'm doing my band the BlueBonnets. I'm starting a second record with Adrian and the Sickness, a local band. It's my second record with them. I have a record I want to make for charity but I haven't gotten very far. I've done one track. I want to do a lot of classic blues songs but do them in a different, modern way and use singers that don't have blues voices. Like, I'd like to get Belinda to sing one. I'd like to get different singers that don't have that bluesy voice and record them. I want to release it and have the proceeds go to some charity that I don't know yet.

I'm also getting more involved in the community here. I'm starting to work with an organization that is trying to bring music to kids that are at risk and show them how music can be a way of expressing their feelings. They work through the Boys and Girls Club of America, which is already an intact infrastructure that has access to the kids. I've volunteered there and I'd like to get more and more involved with that.
Visit Kathy's official website HERE.